Death of ODB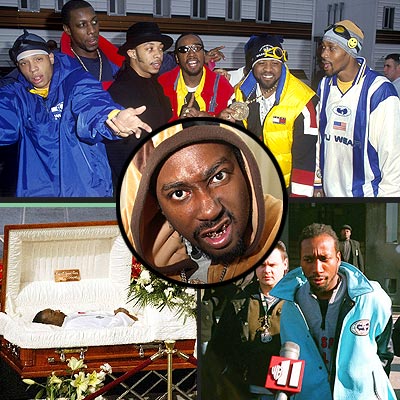 Ol' Dirty Bastardcollapsed at approximately 5:29 p.m. on November 13, 2004 at Wu-Tang's recording studio, 36 Chambers on West 34th Street in New York City.
Rapper Ol' Dirty Bastard Dies - News Story | Music, Celebrity, Artist News | MTV News]
He was pronounced dead less than an hour later, just two days shy of his 36th birthday. His funeral service was held at Brooklyn's Christian Cultural Center.
ODB was scheduled to perform in a Wu-Tang reunion concert at Continental Airlines Arena in New Jersey on the night of his death. The members were unaware, as was the audience at the concert, that he was dead; it was assumed that ODB was a no show once more. Wu-Tang has paid homage to their member on more than one occasion. In August 2006, one of his sons came out at a Wu-Tang concert at Webster Hall and rapped "Brooklyn Zoo", along with his mother. Also during a concert at the Hammerstein Ballroom the Clan brought his mother out on stage while the entire occupancy sang along to "Shimmy Shimmy Ya".
ODB's career in Wu-Tang was marked by wild and criminal behavior. At the 1998 Grammy Awards, he protested the Clan's loss (in Grammy Award for Best Rap Album|Best Rap Album) by interrupting Shawn Colvin's acceptance speech for her Song of the Year award. ODB was also arrested several times for a variety of offenses, including assault, shoplifting, wearing body armor after being convicted of a felony, and possession of cocaine.
Ol Dirty Bastard Russell Jones Mugshot and Criminal History (Part 2)]
He was also in trouble for missing multiple court dates. In late 2000, Ol' Dirty Bastard unexpectedly escaped near the end of his rehab sentence, spending one month on the run as a fugitive before showing up on stage at the record release party for ''The W'' in New York City. Ol' Dirty Bastard managed to escape the club but was later captured by police in a McDonald's parking lot in South Philadelphia and sent to New York to face charges of cocaine possession., he was sentenced to two to four years in prison.
Once released from prison, he signed to Roc-a-Fella Records. A posthumous official mixtape titled ''Osirus'' featuring many new songs was released in March 2005, while ODB's Roc-A-Fella album ''A Son Unique'' was originally to be released in 2005, but had numerous delays. It was to be released on November 7, 2006 to commemorate the second anniversary of ODB's death, which occurred on November 13, 2004, but was delayed again.